MinQi Fan
Updated:2019-05-25 18:26  By:Authority
MinQi Fan
Fan Minqi, Academic leader of Porcelain Painting, Yunnan University Changxin International Art College.

Born in 1964 in Jingdezhen, ceramic artist, disciple of Master of Chinese Arts and Crafts Zhang Songmao, Master of Chinese Ceramic Art, Master of Arts and Crafts of Jiangxi Province, Director of Jingdezhen Ceramic Culture Research Institute, President of Jingdezhen Ceramic Art Chamber of Commerce, Secretary General of Ceramic Art Committee of Jingdezhen Art Association, Vice President of JingdeZhen Young Artists Association, Ceramic Master of China Mingci Website, Great Ceramic Master in the artists list of Daci Website by Jingdezhen Purple Lotus Network co., LTD.; he has been awarded the honorary title of "World Outstanding Chinese Artist".

Fan minqi's personal biography and his representative works "Ma Gu Xian Shou" "Gui Fei Chu Yu" "Si Da Mei Nv" "Guo Se Tian Xiang" are listed and published in the "Who's Who in the World", "Big Dictionary of the World Excellent Talents", "Contemporary great Master, Ceramic Artist, Professor of Ceramic Fine Art Anthology", "A Complete Collection of Modern Chinese Ceramics". Shanghai people's fine arts publishing house published "Jingdezhen Youth Ceramic Art Collection" in 2001.
Fan Minqi received high appraisal and much publicity on China Central Television, Shanghai Oriental TV, Tianjin TV, Jiangxi TV, Jingdezhen TV, Jingdezhen Cable TV, many news media of Japan, South Korea, Singapore and many domestic newspapers and magazines. "Jingdezhen Ceramics Collection", a tribute to the thousand years of Jingdezhen, focuses on Fan Minqi and other ceramic art studios – Zhong Yixuan.
有力量的发声,有价值的讨论,有深度的交流,有品质的沙龙,这里是艺术品的秀场,艺术家的朋友圈,艺术界的思想集散地。
欢迎来到三宝蓬[西席]活动总第68期现场,今天是【西席·景德镇时间】2019年特别策划【瓷语对话】第四场,这是一场深入探讨当代瓷画艺术语言的系列学术交流活动,由景德镇陶瓷大学美术学院、景德镇陶瓷艺术研究院和景德镇画院联合主办,三宝蓬艺术聚落与景德美术馆共同承办。
今天的主题是探讨【瓷画本体语言】,现在我很荣幸为大家介绍今天的主讲嘉宾,范敏祺院长。范敏祺,享受国务院政府特殊津贴专家,中国陶瓷艺术大师,景德镇陶瓷艺术研究院院长,景德镇美术家协会副主席,瓷画学科带头人,硕士生导师 。今天的主持嘉宾也是这系列学术活动的主持嘉宾,张景辉教授。张景辉,景德镇陶瓷大学教授、硕士生导师、景德镇市美术家协会副主席,景德镇市雕塑家协会秘书长。还有我们的互动嘉宾,丁传国,景德镇陶瓷大学副教授、博士,硕士生导师,昌南瓷社社长。
张景辉:
大家好,今天很荣幸跟大家一起,聊当代的瓷画本体语言。最近,我意外的认识了一个外地艺术家,在聊天的过程中,他说了一句话,让我很敏感。他说你们景德镇的艺术家很团结。我当时没反应过来,我说团结挺好的,然后我这几天一直在想团结这个词,人为什么会团结呢?因为有一个共同的目标就会团结。这个目标是什么?然后我最近又在看一篇文章,关于对中国式抽象绘画的批判,我就发现这个团结是不是有所指?如果我们的学术要去争鸣的话,可能就会出现学术分歧的现象。这么多年来,景德镇的艺术家都非常团结。我认为是什么东西维系在一块呢?有时候,我会这样去想是不是缺少学术分歧?有分歧就会发出不同的声音,这种不同的声音可能会出现不团结的现象,那么这种不团结现象,我认为是好事,是学术争鸣带来好的现象,我个人是这样理解的。
那么今天我们瓷语对话是一种互动,是对当下陶瓷将往何处去?面临重大转型的一个思考。这里没有权威,是平等的互动,也就是说希望大家随时可以举手打断我们中间的演讲,提出不同的意见,提出自己的问题,问题是谈艺术现象而不是针对人,我认为这样也有利于团结。我与范敏祺大师认识很多年,范院长的一些行为让我很感动。他连续做了两届的瓷画双年展,2019年准备做第三届,希望在座的艺术家能够踊跃地参加这次活动。范院长还做了《瓷画研究》期刊,他以一己之力的举措很快就得到了社会各界艺术家和热衷于弘扬民族文化同仁们的支持。这个对于我们回归于陶瓷材料的思考,建构瓷画语言是非常有价值的。在此,我也非常感激范院长做的这些事情。接下来我想把话筒交给范院长。
范敏祺:
首先要说两句感谢,感谢主办方,感谢张教授、丁教授,感谢今天晚上能在百忙之中参加这次活动的朋友和嘉宾。这几年一直在思考瓷画的相关问题,今天晚上正好有机会和大家一起对中国瓷画这个概念进行分解、分析、探讨、分享。我声明一下,张教授说我是一己之力,这句话讲对了一半。开始做瓷画时我一个人多做一点,后来慢慢得到了很多人的赞同,就成了一个团队,是一群革命同志——艺术革命同志在一起做的这些事。下面请大家花十分钟浏览一下,我们2015年、2017年两届瓷画双年展的视频。
【2015首届瓷画双年展视频】
刚才播的六分钟视频,是我们在2015年第一届瓷画双年展,短片中很多艺术家发表了自己的感言,认为当代中国瓷画应该怎么去走,怎样去定位。中国美院院长,中国美协副主席许江把瓷画作为一个"顶天立地"的画种,要我们去努力。2015年首届瓷画双年展开幕式是在景德镇,学术讨论的第二场展览是在杭州中国美术学院,第三场是在哈萨克斯坦国家造型博物馆,当时也是得到中国文化部的认可,在这个基础上,2016年国家艺术基金,当时分管艺术基金的文化部长来景德镇考察的时,对此行为高度肯定,并鼓励我们申报2017年的国家艺术基金,这样才有了第二届瓷画双年展全国巡展的机会,经历在全国八个城市展览,我们听到了很多声音,坚定了我们继续前行的信念。今天讲的这个主题——关于瓷画本体语言,曾经也听了很多不同的声音,通过分析总结再加上自己的感悟,觉得现在要梳理,我们今天一个一个事件一段一段的视频以及图片分享给大家,现在请大家看第二个视频,关于第二届中国瓷画双年展的开幕以及研讨的现场。
【2017年第二届中国瓷画双年展视频】
这个视频看完以后,我有时候都感觉自己比较伟大,做了两件轰动全国的事情,而且是在公开场合提出瓷画的概念。为什么会做两届瓷画双年展?我简单的给大家分享一下。2010年我去杭州学习,经常会看到一本书叫《中国绘画史》,《中国绘画史》里面阐述了很多绘画门类,大家都知道有油画、版画、漆画几十种,包括当代的沙画都列入进去,唯独没有瓷画。
我就在想,科技发展到今天,生活模式改变了,工作方法改变了,审美的取向也在改变了,各种的范式也在改变。所以说瓷画这个概念,在传统意义上就是在陶瓷上画画,我不这么认为。刚才张教授说过,我们今天来讨论一下瓷画方面的问题。
刚才两个视频足以证明各界声音和国家层面对瓷画的一种重视,我想我们的路还长,今天的分享作为一个抛砖引玉,以引起大家的注意。对于瓷画的概念、定义、标准,我们暂且不说,我们找到了一个方向。接下来我觉得我们的张教授要有声音,或者是丁老师有声音。
丁传国:
我很高兴已经是第四场参加这个活动,今天特别开心能和范院长聊聊瓷画。关于瓷画这个概念,范院长提到了一个纯美术的问题,可能纯美术不仅仅和载体或形式相关,它可能跟内容上相关联的部分更重要,内容上是走向纯美术,那它就是纯美术或者说是纯艺术;如果说是在形式上,若是要以纯粹的工艺美术方式来做一个瓷画,那肯定还是工艺美术。
张景辉:
慢慢走近主题,第一个是概念的陈述,今天讲的题目是瓷画本体语言,那么就有三个概念。第一个是瓷画概念;第二个是本体概念;第三个是语言概念。所以,瓷画本体语言,这三个概念都要分清楚,分别对待。陶瓷艺术是一门很广泛的艺术学科,其中包括现代陶艺、传统陶艺、陶瓷绘画,陶瓷装饰、陶瓷雕塑、陶瓷综合材料、陶瓷公共艺术等,那么瓷画是其中的一个语言形式;第二个概念,是本体问题,本体就是物体真象的自然呈现;第三个概念,是语言建构,瓷画和本体只说了主体通过客观的呈现方式,那么如何呈现得更高级呢?那就是语言建构,所以说语言的研究是我们最终的节点,我们当下的思考和以前不同的问题是什么呢?以前很多艺术形式基本上是建立在文人画基础之上,也有把油画的语言方式移植到陶瓷上来,我认为这是瓷画本体语言要回避的一个问题,也就是说,瓷画本体语言的研究应该不是一种从属关系,而是平行关系。也就是说,今天提出的瓷画本体语言研究的最高意义在它将成为一个独立的门类,而且这个门类将来也可能会优越于中国画,油画、版画、砂画,这是因为瓷画的语汇丰富于它们,这也是我们对于瓷画本体语言研究的最初情怀,同时也是对瓷画本体语言研究的充满了信心所在。
在看到了范院长两届瓷画双年展,为什么会引起那么大的影响力?以及那么多的艺术家来参与,是因为陶瓷以其自身材料的魅力已经崭露头角,已经让人刮目相看。我们在80年代初期,西方现代陶艺引进中国的时候,出现了很多问题,也引起了很多争论,对今天的审美产生了一定的影响。今天,瓷画应该处于初级阶段,这种初级阶段恰恰给了所有艺术家未来的希望。因为它将以全新的方式和形态展现给世人。
范敏祺:
今天提出的中国瓷画概念,是源由先驱者在原始的时候就在彩陶上绘画,可以说,中国的绘画技术是从彩陶和岩画上开始的,所以说瓷画是有非常好的历史条件。我们回顾一下漆画的渊源。我翻过历史资料,原来没有漆画这么一说。从1962年,越南人做了第一场漆画作品展。2003年,中国美协及文化部门才通过40年的努力,确定了漆画作为一个独立的绘画门类。漆画也是从漆工艺品,漆器里面的装饰绘画,一步一步走到今天的漆画的独立门类。它自身也有非常好的条件,第一,它有很牛的艺术作品,就像刚才丁老师所说的,其二它具有本体的艺术语言。我们的瓷画也应该是这样,瓷画也好,其他事物也好,包括运动项目也好,它有技术,有参数,我们过去不管你怎么画瓷画,语言太丰富了,丰富到像国画,像油画、像漆画。如果是这样的话,瓷画能立的起来吗?我们没有自己独立的本体语言。
你看上面有各种绘画门类的作品,各美其美的绘画本体语言特征。分别有岩画、国画、漆画、油画、水粉画、沙画、连环画、版画、插画、漫画、瓷画,还有很多我没有列举出来。
油画我选了两种风格,一件是前俄罗斯费欣的作品,一件是当代著名油画家冷军的作品。
…………
这些画的门类大家都非常熟悉,我今天把它梳理出来就是让它们与瓷画产生一种不同语言的对比,即是本体的对比。本体就是万物的本身、真象,它是一种特征。比如,男人有男人的本体,女人有女人的本体,若男人长的很像女人,打扮成女人,叫人妖,是不是?所以说瓷画长得一定要像瓷画,这是一个难度系数。为什么运动员跳水,两米也是跳,六米也是跳,十米也是跳,你可以瞎跳,你也可以在陶瓷上瞎画。画国画的风格也好、油画的风格也好,我个人认为都不是真正瓷画的发展方向和标准。当然我们今天不是来定标准的,我们是在捕捉瓷画发展方向、探讨瓷画标准的。
瓷画创作每个人有不同的认识和目的。我个人认为,有四大目的。第一卖钱,因为要生存,要生活,画的作品要卖钱,一定要满足于客户的需求,过多得考虑客户的需求,是我们不能回避的。既然谈到本体语言这种特征,很多同事就问我,一味的表达本体语言,客户不喜欢那作品卖不掉啊?第二目的,要应付某某参赛、评奖,它都是有套路的,比如说要把握政治方向、文化走向、民族倾向、审美意向,要怎么符合评审官、评委们的眼光,关键要去拿奖;第三个目的,要评各项职称,比如说教授也好,高级工艺美术师也好,一级工艺美术师也好,尽量往细里画,专属的"工艺"审美取向画,这个跟第二个目的有点类似;第四个目的,是艺术家的情怀,艺术家的自我表达,作为一种学术,作为一个标准,作为一种高难动作的系数参考,我们要有自己的叙述语言,即本体语言。
我曾经在第一届中国美术学院的美术馆做展览的时候,有一个好朋友,大老远的来看展览,而他没看到几分钟就出来了,说得第一句话便使我从脚凉到头,他说"看这个瓷画展太多没有瓷画的特点啊,看很多都像油画、国画,这有什么意思啊?让我跑了两个小时。"因为是朋友,说话就比较直率,但是这种直率的话对我来说是一个非常大的打击。他说得这个话表达了一个什么现象呢?就是瓷画作品没有瓷画本体语言。就像我们去看全国美展,在某一个区域,也有一点点同感,比如说油画区域,会发现油画可以这样画吗?然后去看国画、水粉画,会觉得国画可以这样画吗?这说明一个什么问题呢?过于摹仿语言的跨界,才会做到一个不是本体语言特征的绘画作品。
丁传国:
陶瓷绘画,是一个发展中的绘画。今天我们所探讨的,事实上就是一个未知的东西。刚才范院长讲到国画和油画之间可能有共通的地方,实际上瓷画也是一样的,所有的画种,油画也好、国画也好,它应该是我们的土壤,我们的养分,我们不能因为可能画面似乎有点像国画,有点像油画,就觉得这个东西不是瓷画了,我觉得这个里面也有自我的认知,我个人认为所有的绘画都有共性的地方。这种共性就会感觉有相像的地方。我们讲本体语言,瓷画有他的本体语言,这个是毋庸置疑的,它的材料,它的火肯定是他的本体语言。但是这些共性的地方,实际上是提供养分,滋润陶瓷绘画,让陶瓷绘画能够展现自身的特征,我们的特征来自于我们的本体语言。
我觉得这里面提到本体,是一个非常重要的概念,这是一个很哲学化的概念,也是一个非常难解释清楚的概念,但是它运用到我们的绘画里面,尤其是陶瓷绘画里面,有非常重要的特征,第一它是本质的,第二它是有排他性的,所谓排他性就是它和其他的画种相区别的特征,这是很重要的。刚才说的一个材料、一个窑火,这是最重要的瓷画本体语言。窑火可能很多从事陶瓷绘画的艺术家不太重视,不太重视的原因是什么呢?因为景德镇的烧窑一般是搭烧,那么搭烧就会造成一个什么样的情况呢?搭烧就会让我们的瓷画去适应别人的窑火,然而别人的窑火不会适应你,当我们去搭烧一个窑火的时候,一定要在这个窑里面试。所以,窑火要用的好,一定要是自己去操作的。窑火要为我们所用,才能成为我们的本体语言,如果窑火不能为我们所用?去搭烧一个窑,去迎合一个窑,那这个语言肯定不是一个本体语言,从瓷画本身而言它就成了瓷画的一般语言,窑火只是把他烧熟了,烧好了。
张景辉:
下面的气氛很热烈,希望等一会儿气氛是不是可以再热烈一下。这是第四场,前面谈了一些个体语言方式,今天这一场,我们是对陶瓷本体语言进行探究,后面可能会有一些关于逻辑、关于概念方面的一些探讨,从文化的角度来谈瓷画,这样多角度、多维度的方式来完成对于瓷画的一个更深度的研究。接下来我们有请掌声欢迎范院长继续。
范敏祺:
我们前半段说到瓷画的本体语言。实际上我今天有三个层面的东西,刚刚已讲到了两个层面,一个是物质层面,我们怎么去使用工具、材料、经过火的洗礼,达到一个什么程度的质感效果,这是第一个层面。还有一个是技术层面,刚刚也做了一个比喻,技术层面它有难度系数,就像跳水一样的,你可以跳两米,可以跳六米,还可以挑战自己跳十米甚至十五米。我们的瓷画应该也是这样的,应该要站在一个技术层面来挑战自己,尤其是工艺、材料、火候与画面最佳效果之间的融合。接下来,关键的还有一个是精神层面、思想层面。我们不仅仅是要达到物质和技术本体语言,就算是瓷画,我们现在回忆一下市场的很多产品,它们有通用材料吗?他们有技术吗?他们有物质和技术的本体语言吗?也有,但是没有绘画语言、艺术语言以及哲理思考的一种艺术家自我表达的审美取向。是不是?所以说我们接下来要聊的是一个精神层面和思想层面,接下来我想请大家来看一些图片,我也是确确实实花了一些时间来思考和收集的。
各种器皿上的绘画,型而上的一种装饰。上面有很多工艺品。骨器、石器、玉器、陶器、青铜器、漆器、瓷器和其他器物。这些所谓的器物都是由设计师、工艺师创造出来的一个个造型艺术,然后为这个型而服务的一种装饰、一种绘画,那么这个时候,这个主体就请起到一部分美术家或者专职画家,过去是宫廷画家,为这个型做设计做服务,他不完全是自己个人的一种表达,更多是一种合作精神。因为我们前面说了,画家是一个个人行为,是一个对生活,对情感的自我表达,它有自己的思想,它有自己的一种独立语言,接下来你继续看。
非常的漂亮,我今天说这个其它的器物也好,包括工艺美术也好,包括陶瓷艺术也好,我并不是说它们怎么怎么样,并不是说贬低它们怎么样,它们有自身的发展空间,是另外一个发展方向。我们要从这个精湛的、传统的这种器物上的装饰剥离出来一种绘画语言,就像漆画一样。我们一定要对传统、经典的加之否定与肯定的自己这种行为上。有一句话叫做"不破不立"。
你看这个灯笼是用宣纸糊的。那我们中国画的概念,粗表的概念是用笔、用墨、用国画颜料在宣纸上画,但这个灯笼是国画吗?这不是在宣纸上画的吗?如果你要去参加中国画美展你能送这个过去吗?显然是不能。对不对?
我们再看下一部分,我为什么要收集这么多图片来佐证陶瓷器皿上的绘画不是瓷画。就是它为型而服务,是受一定限制的,它是理多情少。绘画不是,绘画是情多理少。它是一个个人行为,而且我们前面的这种发展过来的所有的绘画,他就有一个概念定义,建立在二维平面上的绘画创作。所以我们要向油画、版画、漆画这么一个艺术形式的参考,建立在我们自己的瓷画体系。我觉得到这个时候应该要有互动。不知道在座的听众也好,有什么想法,或者有什么观点可以跟我们互动,我们接下来还有第三个要与大家一起探讨的瓷画作品的一些现象。在这里我不得不提一个老师,就是坐在后面的一位老师。我很早很早以前就看过他的作品,他就是以釉料作为一个绘画材料,但是他在很多程度上,把艺术语言、绘画语言以及本体语言结合的非常好的一位老师,曹老师能说两句吗?
曹老师(嘉宾①):
今天非常高兴,能够在这里听专家、教授的讲座受益匪浅。范院长提出这个瓷画本提语言的概念以后,我感觉特别的兴奋,他不仅是为我们当前的陶瓷艺术正了名,而且在美术的这个大范畴里面为陶瓷美术引进做出了非常重要的贡献。我作为一个陶瓷新人,一个学生,这几年在景德镇也受到很多老师的指导,今天想说一点我的感受,为什么我很晚才接触陶瓷?主要原因是我认为陶瓷是工艺美术范畴,景德镇有好多朋友要求我来景德镇来画陶瓷,我都拒绝了。但我来了以后,感觉到陶瓷是一个非常丰富的载体。所以王老先生说的一句话我非常认可,他说从艺80多年了,有好多领域我都没有进过。这句话就说明陶瓷的丰富以及它的深奥。所以我就经常跟我周围的朋友说,你们就多到景德镇交流交流吧,景德镇作坊的小孩儿都比你们画的要好,他们画的陶瓷你们学两年也未必能赶得上他们。
我今天非常高兴能参加这个活动,听专家们的报告。另外我知道了这个瓷画的这种概念。我们范老师提出来的,对我们陶瓷界的艺术家们做了一件大好事。所以应该不管以后我们年龄大一点的,还是年纪轻一点的,都应该在本体上如何去思考,如何去追寻范老师的这种理念,真正的为陶瓷瓷画做出我们应有的贡献。谢谢大家。
范敏祺:
曹老师客气啊!实际上在瓷画的方向他研究很早了,大概是我认识的七八年前。就是我刚才说的,瓷画不仅仅是要掌握工艺、材料、技术、火候以及它的本体语言,这都是停留在物质层面,我觉得精神层面非常非常重要,就是我们如何把它融入到艺术语言、绘画语言和本体语言当中,最后形成一个审美主体方向,这个是最关键的。我刚才说了,地摊上很多都可以达到物质层面,没有问题。在金昌利、国贸等市场有很多模板,因为什么呢?因为现在很多材料都公开化了,颜色釉到处都可以买的到,技术和烧炉等等都可以。但是这个艺术语言并不是说每个人都可以把握的,必须要有一个专业的学术理论和基础以及人的对于社会的思考。这个是最关键的,我觉得在这个程度上,我们到现在还一直在做一本书叫《瓷画研究》,这本书大家每个人手上都拿到了一本,《瓷画研究》是我们创作的过程中的一个记录,在这个领域,我特别感谢今天来的黄茂军先生,他是我们这本书的执行主编,下面我请他讲两句,大家鼓掌。谢谢。
黄茂军(嘉宾②):
大家好,范老师给了我一个机会。其实我本身对陶瓷绘画,陶瓷艺术是不太了解的,因为我原来的专业是做新闻工作的。最近这段时间,这几年吧,我也一直在跟范老师做《瓷画研究》,让我有一个特别好的机会,虽然没见过很多老师,但是能看到他们很多的作品以及感受他们作品的内涵。我们《瓷画研究》当时的一个定位就是做一个记录。我个人认为如果说做研究的前提是要有一个完整的建档,有一个比较完整的建档以后才能去做研究,我觉得景德镇目前的这些陶艺家、艺术家也好,都应该首先建立起自己完整的一个建档。作为一个艺术创作行为,它是一个过程,是有阶段性的。
今天就这个,咱们范老师参与的这个活动,它有一个预告,我在转发这个预告的时候,我写了一段文字,范老师嘱咐我把这段文字在这里拿出来与大家共享。其实我这段文字不能说是仓促之作吧,应属于这些年的思考。虽然我是在火车上用手机直接摁的。
我提了四个问题:
1,我认为瓷画的本质就是陶瓷材料成为一种绘画语言,这种语言有两个层面的存在:一是表现,陶瓷材料如何表现线条、色彩和构图这些基本的绘画语言;二是呈现,陶瓷材料如何成为一幅绘画的载体。
2,实现陶瓷材料成为一种绘画语言,是景德镇在世界所有陶瓷产区中表现得最为突出的一个现象,这个现象究竟从何时起?待考。曾经有一度我把这一努力的起点定在了程门,后来在干道甫家看了他所收藏的明青花瓷片及他对此图案的临摹,我对程门发轫说产生疑问,阿干所收藏的那些瓷片告诉我,彼时的画师就是在从事创作,而不仅仅是工作。
3,是创作?还是工作?这是''瓷画''与''陶瓷绘画''(按范敏祺老师划分法)的一项重要指标,你可以受影响甚至借鉴,但你不能直接临摹甚至抄袭,这是创作原则性问题。景德镇的陶瓷发展史(其实世界各陶瓷产区也是如此)上,照样临摹是陶瓷绘画的一种常态,这个常态严重影响了瓷画成为绘画艺术一种的声誉,所谓成也萧何败也萧何。
4,我曾经多次强调过在瓷画创作过程中画家的自觉性和自由度问题,这二者之间还是存在一定逻辑关联的,景德镇的陶瓷材料和工艺供应卓有成效地为艺术家的创作提供了自由度,才能完美呈现艺术家的创作自觉。所以,不仅要有艺术创作自觉,更要有艺术表达自由,这是瓷画概念得以成立的一个关键。
张景辉:
刚才黄老师说的自由度的问题,这是瓷画发展的一个重要前提,我完全赞同,今天陶瓷随着科技的发展和工艺的成熟,使陶瓷在烧成上,由原来不可想象的"进窑一色、出窑万千"变为越来越可控。艺术表达方式通过一定的实验从不可控到可控,又随着从陶瓷多元的发展,它这种实验的意义恰恰是当下艺术家去寻找得一种新的语言方式来呈现自己内心的表达。艺术家最大的兴趣就是创造,这一点正是吸引众多艺术家"景漂"的原因,原来出去的艺术家"景归",这是陶瓷的魅力,它可以不断地让你的异想天开得到实现,我想请一个人来聊两句,他是一个收藏家,也是一个文化推动者,有请马晓峰先生。
马晓峰(嘉宾③):
我是前天收到范敏祺大师的邀请来参加这个讲座,我对张教授他们举办的这个形式非常赞同,目前艺术品市场如此低迷的情况下,能够举办推广景德镇陶瓷学术性的讲座非常有意义。我上次也来听了,感觉得不错。我与范院长是30多年的好朋友,今年正好是我从事陶瓷行业的四十年,我是1980年到1984年在江西标准局工作,主管景德镇陶瓷标准化的制定和陶瓷质量监督。后来就从事陶瓷艺术收藏、传播及推广工作,刚听张教授讲得关于陶瓷艺术的实验性,我非常赞同。几十年来,我都是在推广传统陶瓷艺术,推广王锡良等老一辈艺术家,现在我有一点审美疲劳了。所以最近我对创新的、跟世界接轨的瓷画艺术我非常感兴趣。经过这些年的努力,我将把我喜爱的这些高温颜色釉的瓷画推向国际市场。
十年前,我发现了一位"景漂"艺术家,他根本就没有学过陶瓷,他非常喜欢陶瓷,经过自己努力的试验后,找到了自己独特的技巧,他做的瓷画艺术可以说目前还得不到大多数人的理解,不过这没关系,我知道他的作品在世界上一定很受欢迎,所以我前年在温哥华做了他的第一次个展,非常成功,在国内也做了他的几次个展。实际上,在目前市场极其不好的情况下,前年他一个展览成交了几千万,说明了市场对这种创新的、能够与世界艺术接轨的好的艺术品,是能够受到人们青睐的。在今年下半年我还将在美国芝加哥、旧金山、洛杉矶的三个美术馆做三场个展。他们都选中了他的作品,为什么呢?就是你讲的,他具有陶瓷的语言,又跟世界艺术接轨。
在这几十年的经营当中,听到的最多的都是认为陶瓷是工艺品,不承认它是艺术,我相信这两次双年展范先生选择的那些作品,我看了很大部分作品都可以归纳为艺术品,而不是工艺品,我希望通过我们的努力,能够把景德镇的瓷画艺术真正提高到艺术的范畴,打破世人对景德镇陶瓷的偏见,"景德镇就是工业艺术,陶瓷就是工艺美术",这是不对的。
我想对张教授点个赞,张景辉教授是我非常敬佩的一个教授,他这么多年来,不但致力于教学,而且致力于景德镇陶瓷艺术对外的宣传,起到了一个很大的作用。他不管是演讲能力还是传授能力,我都非常佩服,我希望这个活动能够长期办下去。我会大力支持你的,OK就是这么多,谢谢。
何笠农老师(嘉宾④):
其实我觉得这个历史总是给我们机遇,尤其是我们现在应该说是一个非常好的机会,因为景德镇的发展每一个时代都有它的特征。宋元明清,每一个朝代都有一个很鲜明的特色。景德镇作为一个世界瓷都,发展到今天应该讲除了工艺以外,陶瓷艺术一直被世界所关注,而且处于领先地位。当下很多人为瓷画呐喊,因为有它的客观原因,景德镇传统陶瓷艺术一直停留在共性审美的精神层面上,艺术家独立的个性创作比较少。应该说从珠山八友时期逐渐有了个性得表达,但发展得比较慢。近几年,随着交通、信息的发达,烧制、技艺的发展,全国、全世界的艺术家都纷纷来到景德镇,景德镇的陶瓷艺术开始了井喷式的发展,我觉得现在做瓷画的人,面对这个历史机遇的时候应该更多的在一起探讨,探讨什么呢?探讨得是国画、油画、版画和其他画种,不断吸取它们里面的营养,一是艺术,二是本体语言,艺术和工艺的完美结合。工艺不断的创新,当有朝一日大量的优秀的瓷画作品诞生的时候,瓷画在美术界的地位,就不用我们去呐喊,自然而然就会被美术界所认同。不管是"景漂"、还是"景归"、还是本土,所有的陶瓷艺术家都面临一个历史赋予最好的机遇,现在能异军突起的,将来在瓷画艺术上就能够扬名立万。所以我希望所有的瓷画艺术家,从自身做起、好好努力、好好学习,把自己的作品做好,为瓷画的发展添砖加瓦,谢谢。
张景辉:
何老师也是我的好朋友,他是从甘肃过来的,当时他有他对于艺术敏感的嗅觉,使他的艺术得到了一个长足的发展。我认为刚才的那些话,我觉得他是非常的敏感对于当下陶瓷瓷画艺术的理解和敏感性。所以非常的好,我认为这也是对当下的一种肯定,对自己的一个信心,同时也是对我们瓷画未来的一个信心。我们接下来还是要把话筒交给我们范院长,他还有很多要说的,一会儿大家如果有想说的,想问的可以举手。
范敏祺:
刚才张教授说我可能还有很多要说的,说心里话,我也想说很多,想说的仅仅是一种语言,我觉得语言太多也不足以表达我们今天要讲的本体语言,古人有一句话叫做大道至简,知道我们要讲的就是六个字"瓷画本体语言",我接下来先让大家再看一些我收集的图片,就是近年来包括做双年展的作品,包括我认为瓷画的各种语言的表现都在上面的这些图片上,看完图片我们再进一步的分析与分享。
因为时间关系,我不会停留太多,大家可以通过这个图片可以领略一下到底哪副作品更具有瓷画本体语言的特征,以及它的绘画语言与审美以及艺术语言的统一,我刚才说的不要一味的去追求我要模仿油画、国画等等,那个不是我们的方向,我们一定要选择方向,方向不是标准,方向是一个基本定位,我们一旦选对了方向就应该是要风雨兼程。
因为图片不是容易放大,很多细节我们看不到里面的质感,看一个大概,大家都应该看过类似的作品。
这是柯老师的作品,我觉得柯老师的作品很有本体语言特征,很好的把握了工艺以及材料。
刚刚丁老师说得好。材料、工艺、技术,烧炉,都要为我所用。传统的意义上我们烧粉彩780度,为什么不可以烧880度呢?980度呢?来达到我想要的艺术效果呢?是不是?我们要打破传统观念,粉彩也好、新彩也好、青花也好,仅仅是一种技术而已。不要为了技术而表达技术,我们要掌握这个技术为艺术语言、为绘画语言而服务,这是最关键的。
麻汇源的这幅作品很有意思,我很欣赏他对材料的认知、对工艺的了解以及他对生活理解的角度,把它美化成一幅瓷画作品。
我刚才也说过瓷画可以去尽情发挥你的各种目的,比如说画中国画、画油画等等,就像冷军老师说的,你可以这样去淘气、可以去这样玩,但是作为学术的标准或者是一种高度,你必须要确立自己高标准的难度系数最高的一个方向发展。
待会我再给大家解读一下我对于瓷画的几点认识,接下来我想这样吧,因为时间不多,我最后说,先想听听张教授最后能不能给我们这个瓷画的要素、概念、定义来说两句。
张景辉:
其实前面已经说了挺多的,刚才休息的时候,我跟朱迪聊了一下,说了一个想法,因为朱迪老师是从意大利过来的,他对颜色釉做了一个长时间的实验,半年的时间过去了,他一直处于失败,就在他快要放弃的时候,烧出来的作品让他很惊讶,所以他现在越来越喜欢用陶瓷材料绘画。因为他是学油画的,他把油画的方式架构到陶瓷色釉表现上来,又从陶瓷本身去寻找本体语言,这是油画无法代替的,独特的瓷画语言。故他说:"高温颜色釉的表达方式是我油画中无法表达的"。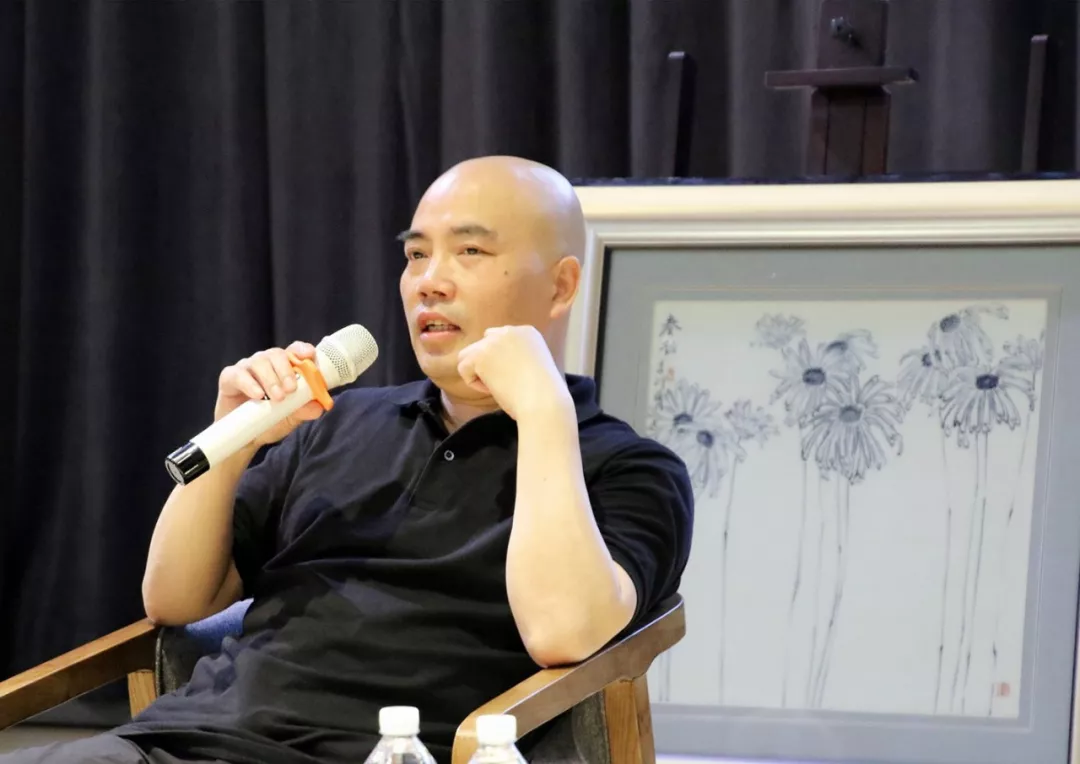 范敏祺:
我打断一下哈,刚才他说朱迪站在艺术的角度,我觉得说的非常的到位,我们的瓷画家一定是要有艺术眼光,有个人思维和个人哲理思考的一个艺术家,然后他有绘画的能力,再来研究掌握工具和材料。我们老是跟人家说我这个工艺怎么样,我这个材料怎么样,我这个好难好难烧啊。那国画没有工艺吗?油画没有工艺吗?他不跟你谈工艺、不跟你谈材料,他谈他的艺术感受,谈他的生活写照、谈他的精神追求,这才是画的最高境界。是不是?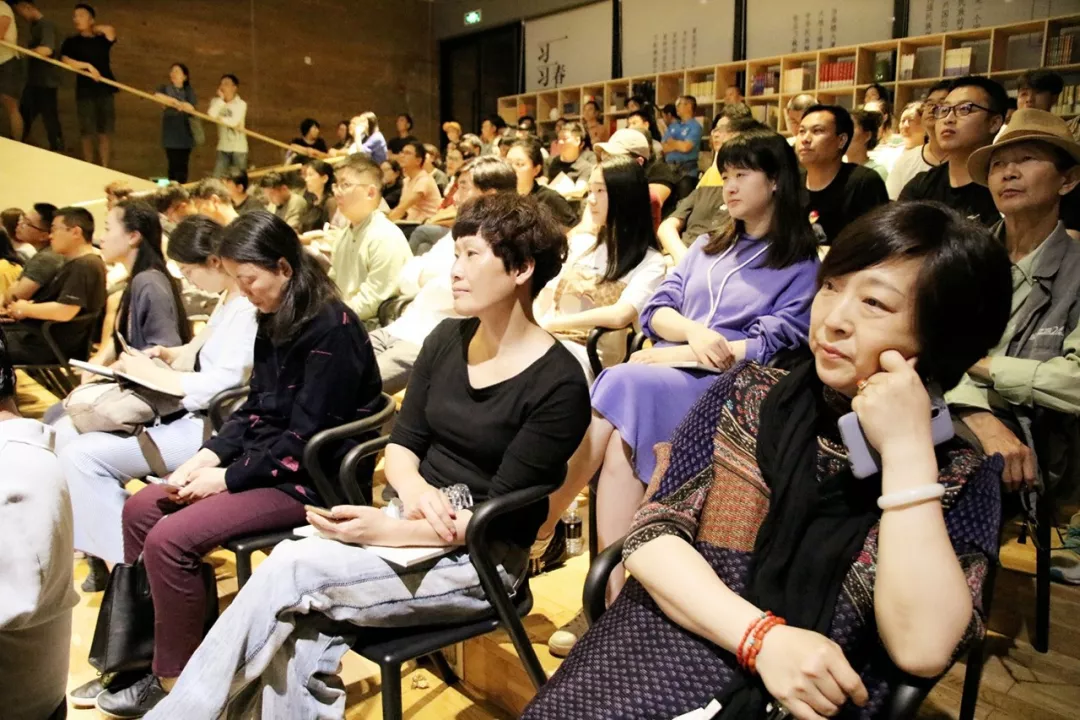 张景辉:
说得好!这才是语言的本体。所以我们瓷画研究的过程中,我们不仅仅是说用材料来表达,更多的是艺术家的修养来表达。今天瓷画的研究一定是放在大美术范围内,是个体学养对艺术呈现方式的寻找过程。前面说了一个实验性,就是去寻找更多的可能,是对材料的驾驭能力和寻找内心表达的碰撞,这个碰撞是油画表达不出来的,但陶瓷可以表达出来,这就是语言的特殊价值,应该这样去理解。
范敏祺:
所以说,我们对瓷画本体语言的架构上概念的认识,我最后应该还是要有一个综合的考量。不仅仅是说技术层面的,还是物质层面的,我们一定要有思想层面和精神层面的,最后归纳为一个审美取向的艺术品。这是一个可以包容、可以相容、可以互容的一个艺术层面,我刚才看到丁老师想说两句。
丁传国:
我觉得今天既然谈到了本体语言,我提出一个问题,大家一起来探讨。我们瓷画的材料有很多,除了颜色釉,还有粉彩、青花、新彩等等。我自己是从事颜色釉瓷画创作的,感觉它的颜色的变化可能在某种程度上掩盖一些在绘画方面上的一些东西,但我还是觉得高温颜色釉真的非常的棒。颜色釉对于陶瓷本体语言的追求与努力会助力,会给予我们一些力量。但是我在想粉彩或者新彩又或者是其他的材料,它们的本体语言,它们对于材料的挖掘能力,这些材料作为我们的陶瓷本体语言,都是我们瓷画本体语言努力的方向,每一个方向都可以去实现。我觉得应该是这样的,大家说是不是?谢谢。
范敏祺:
因为时间的关系,我确实不想耽搁大家太多时间,因为最后,我想给大家分享一下我对于瓷画的几点认识,仅仅是认识啊。
⒈ "瓷画"是在二维空间(即平面)的一种绘画艺术。
确切地说,"瓷画"就是指在瓷板坯体上或瓷板上进行的绘画创作,它不包含其它陶瓷器皿。因为在其它陶瓷器皿上的绘画属于功能性绘事,就如同在灯饰、风筝、服装、包裹、漆器、建筑、人体等物件上进行装饰一样,它们是一种服务于型而上的一种设计。
⒉ "瓷画"有着独特的绘画本体语言。

瓷画的本体语言和其它绘画本体语言有天壤之别,它是任何绘画材料所达不到的质感,这种美除了瓷画家的有意识创作之外,还有经过火的洗礼之后所得到的天人合一之美。
⒊ "瓷画"反映的是瓷画家独立思维的自我表达。

瓷画能成为独立的绘画门类,重要的是瓷画家的原创性,它不是其它绘画门类在瓷板上的复制和转移。瓷画的魅力在于能看到瓷画本体语言特征的审美价值。
⒋ "瓷画"体系的建立和完善已初步形成。
这种体系包括瓷画载体、工具、技法、颜料、窑炉、以及瓷画的审美取向和发展方向。最终要把艺术语言、绘画语言、化着以审美为主体的瓷画艺术作品。
这是我的四个认识,最后我想用一段结束语来结束今天的讲座。
当今科技的不断发展逐渐改变着人们的思维方式、生活方式以及各种"范式"的审美观念,瓷画的概念与当代审美也正在发生着一系列变化。
当下跨界互融、包容、差异,汇集成当代瓷画的审美取向与个性特征的发展趋势。科学与艺术的结晶使得瓷画作品成为艺术家生存经验的表达媒介、艺术创造。
瓷画本体语言的优势是其他绘画材料无法达到的,瓷画家在不断提高技术的同时要注重审美价值与社会、经济价值。
谢谢大家!
ARTWORKS